At Houston ENT & Allergy, we're dedicated to treating every patient who walks through our door, no matter what their condition may be. Their condition might require minor treatment or major therapy, but regardless of the situation, we'll help them find the best solution. There are many common ENT conditions, as well as those that are less common, and in this blog, we'll discuss one of those uncommon conditions – a cholesteatoma.
Understanding the Condition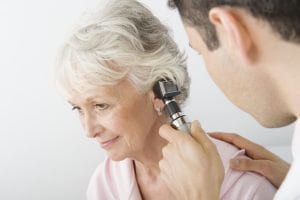 Before we treat any patient, we want to help them understand their condition. A cholesteatoma is a skin growth that occurs in the middle ear behind the eardrum. It can be caused by repeated ear infections, and can increase in size over time. It may also be caused by poor eustachian tube function, which can be due to allergies or sinusitis. The eustachian tube is unable to draw air from the nose into the middle ear (which equalizes pressure), and this air is absorbed into the body. There are cases where a cholesteatoma is present at birth, but these are far less common than those caused by infections.
Detecting the Symptoms
The most obvious symptom of a cholesteatoma is the discomfort that occurs in or behind the ear. Sleeping on the side of your head that has the growth can be very painful, and it could disrupt your normal night's sleep. There is also the chance of drainage or increased pressure inside the ear, which can lead to hearing loss. Since your ears are so important in maintaining balance and equilibrium, you may also experience dizziness or disorientation. If any of these symptoms occur, it's important to see an otolaryngologist as soon as possible.
Treatment Options
Depending on the size and position of the cholesteatoma, a number of treatments options are possible. A thorough cleaning of the ear along with drops or antibiotics may be enough to treat the growth, but if it's increased in size and causing severe pain, surgery may be the best course of action. Our ENT doctors can properly diagnose your condition and let you know what treatment will be best for your ear.
Remaining Calm and Confident
With any ENT condition, it can help immensely to remain calm and confident that you've trusted your care to expert medical professionals. The staff at our Houston Medical Center clinic understand that it can be unsettling and unnerving to deal with a condition such as a cholesteatoma, and it's okay to be afraid of what treating and removing it will entail. We will do our best to make you feel at ease and explain every step of our diagnosis and treatment process. It doesn't matter how common your condition is, you'll receive the same level of professionalism as every other patient who visits us.
If you've detected a growth in your ear, or you're experiencing pain and discomfort, please schedule an appointment with us today. We will treat you with compassion and always be honest about what needs to be done to restore your health.
Use the form below or call us today to schedule your consultation.
[gravityform id="1" title="false" description="false"]