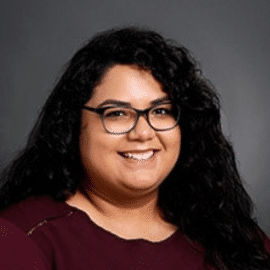 Equipped with a bachelor's in communication disorders from Texas State University and a doctorate in audiology from Lamar University, Dr. Lorena Escobar found audiology after shadowing one of her hearing science course professors at her private practice. It was incredible to see how providing quality hearing health care triggers a ripple effect of benefits in a patient's life.
Dr. Escobar is particularly interested in pediatrics and hearing device counseling. During her doctoral program, she had the opportunity to work with the Deaf Co-Ops at the Beaumont and Big Thicket Independent School Districts to provide audiology services to their hard-of-hearing students with and without hearing devices. This experience has been useful in the treatment of hearing disorders and tinnitus in her adult patients, as it demonstrated how a patient's quality of life can be significantly improved through better hearing at all ages. Dr. Escobar is fluent in both English and Spanish; being bilingual allows her to work with a wide range of patients.
In her spare time, Dr. Escobar enjoys picking up a good book, spending time with her pups, Margo and Matilda, exploring the city and traveling all over Texas to visit family and friends.
Dr. Escobar sees patients at our Memorial City office.